La Maison Amsterdam
About Hyaluronic Acid
Hyaluronic acid is a natural component of the skin which ensures water retention. This moisturizing effect gives the skin elasticity and volume. The production of hyaluronic acid decreases with age, causing the skin to sag and wrinkle.
By introducing small amounts of hyaluronic acid in the form of a clear, non-animal, biodegradable gel, the moisture content of the skin is restored.
Wrinkles will soften or even disappear, but you can also give more volume and contour to your face or lips.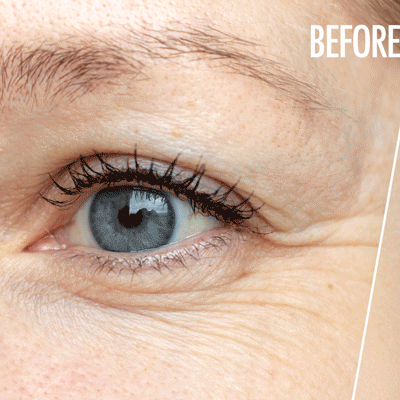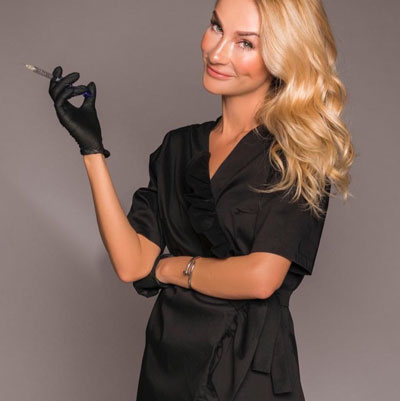 Cosmetic specialist Dr. Olga Chalenko 🇬🇧 🇺🇦
Drs. Chalienko has more than 20 years of experience as a cosmetic doctor and specializes in injections. She is a Allergan expert (Botox) and Injection Trainer. She performs yearly a large number of injection and hardware techniques. Olya is also a dermatologist. 
Results
After two days you will see the final result of the treatment. The skin is smoother, wrinkles are softer, the lips are fuller and / or volume and contours of the face are restored.
During the check, post-photos are made to properly assess the result. In consultation with the doctor, a decision is made as to whether a second treatment is required, which can then take place.
Voordelen van Hyaluronzuur
La Maison Amsterdam
Different types of hyaluronic acid
The hyaluronic acids that Wrinkless doctors use are Teosyal and Etermis. Both have their own indication area, in which they have a high effectiveness and proven safety. The indication is particularly dependent on the degree of cross-linking and particle size of the hyaluronic acid, from which it derives its specific firmness.
You have a number of forms of Teosyal. What you can use for what, you can read on the right.
La Maison Amsterdam
We offer the best specialists and finest treatments for your skin
At La Maison Amsterdam we have a different approach when it comes to service. We offer a personal approach, expert advice, time and attention, as well as using the best products to make sure every visit with us a special and complete experience. 
La Maison Amsterdam is located on the Rozengracht 215 in the center of Amsterdam 
Frequently Asked Questions
We understand that you may have a lot of questions about the Hyaluronic Acid treatments. Are you stopped by all those questions to ideally pursue your beauty and would you like to have your questions answered? We therefore have this page for you. On this page you will find the most frequently asked questions about the Hyaluronic Acid treatments that we have answered for you.
Do you still have a question but it is not listed? Feel free to contact us via the contact page, so that we can still answer your question or ask your question directly to an expert in the chat. Because of this you will not be left with questions that you would rather have answered.
Yes. There is always first a free and no-obligation intake meeting with the doctor who is also treating you.
Some celebrities do indeed have reduced facial expression. However, that is almost never due to injections with non-permanent wrinkle fillers such as Radiesse, but to other interventions.
The correction will slowly but surely disappear. Eventually your skin will look like before the treatment. Follow-up treatments ensure that the result is retained.
Hyaluronic acid should not be injected if permanent implants are already present in the area to be treated, unless it can be established with certainty that work is taking place in a different skin layer.
This so-called over-correction is prevented by the Wrinkless doctors by working with a correct dosage and carrying out the treatment in steps, so that the effect can be assessed in the meantime.
Stories about ugly bumps appear after the injection of fillers. However, this always involves (incorrect) use of permanent fillers, sometimes even applied by people who are not doctors.
Radiesse is a non-permanent wrinkle filler on a natural basis, which is completely biodegradable. In the rare case that a small lump appears, this is almost never visible, but only palpable. It usually disappears within a few days, and in the worst case within two months.
Look at yourself in the mirror, where are you bothered and what results do you expect from a treatment? Together with the doctor you discuss your expectations and the options that are available.

Stay informed
Sign up and stay informed of the latest news.
Unsubscription is possible in the newsletter.