BRIGITTE
Brigitte is the force behind La Maison Amsterdam. After getting a degree in hairdressing in Amsterdam, she trained with Vidal Sassoon in London: 'He was an inspiration. In London, I learned to examine hair in a new and different way.' At La Maison Amsterdam, Brigitte's experience and her passion for hairdressing comes into its own. 'I like giving people personal attention, I look at the picture as a whole, and have the expertise to see what the options for someone's hair are and what will suit the person. It's all about finding balance, looking ánd feeling good.' 
Maria
Maria is the expert when it comes to hair weaves and extensions: the best way to create fuller and longer hair. Maria was trained at Djarling Hair in Denmark, where she learned all the tricks of the trade. She has mastered this craft and is committed to delivering the best. If you are thinking about getting extensions, Maria is happy to give you personal advice about the possibilities and what it can do for you. In addition to hair weaving, Maria also specializes in lash lifts and extensions. 
Lewis
Lewis is a true talent when it comes to hair. Having had a passion for hair for as long as he can remember, he began his training with Vidal Sassoon in London, which taught him to master the skill of precision cutting techniques. After his training he worked as a cutting expert in London's top salons, where he also evolved his coloring skills. Having lived in different countries in Europe, Lewis has developed a broad outlook on style and fashion and he is looking forward to bringing his unique experience to La Maison Amsterdam. 
Morgan
For the most creative looks in hair and make-up Morgan is your girl. Whether she has to create a hairstyle for or a shoot, fashion event or an evening out, she knows how to do this best. As a former Revlon Professional representative, it is safe to say that healthy hair and good quality products are of the utmost importance to her. Morgan strives on being first when it comes to trends, and to be as unique as can be. Whatever style you're going for, whether it is a haute couture look or a more simple high street style, Morgan lets you shine.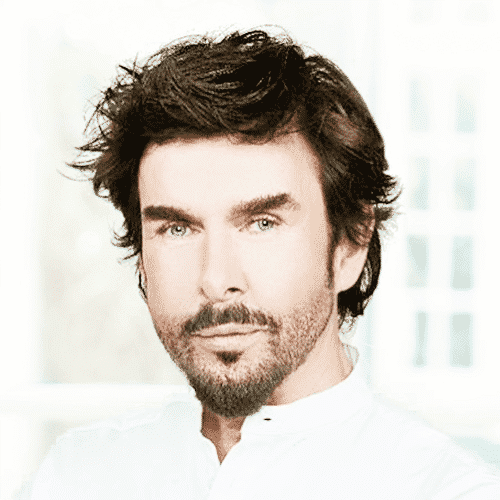 Mari
Mari is the best-known make-up artist, hair stylist and hairdresser of the Netherlands. He has practiced his craft with love and devotion for over 25 years. It all started with opening a salon in Brabant where Mari started his dream. He wanted to share his creativity with the world. The rest is history, and we are happy to have him with us today. You can book Mari as a hairstylist or make-up artist at La Maison Amsterdam.
Olga
Olga is our extensions specialist and a senior cutting and coloring expert. She is originally from Moldavia, where she mastered the hair extension trade. Olga had been living in the Netherlands for a quite a few years now, where she has further developed her skills, and is now one of the best Extensielle microrings experts in the world. Olga is fully trained according to 'The Culture of Total Beauty' by La Biosthétique and you are in great hands with her. In addition to the above, she is also an expert in lash lifts and extensions.
Sanne
Sanne is an upcoming talent from the East of Holland, where she was trained in cutting and coloring. Today, Sanne is one of the talents at La Maison where she was trained according to The Culture of Total Beauty by La Biosthétique.
Yuyu
Yuyu is a Los Angeles trained hairstylist. She has worked with the names of Christina Lidner (actress), Taylour Paige (actress), Tyler Blackburn (singer) and Jack Kilmer (actor), amongst others. Yuyu was key hairstylist at the Inaugural Los Angeles Vegan Fashion Week, Los Angeles. Her hairstyle creations have been seen in a variety of national magazines, including Man of Metropolis, Lucy's Magazine and Amazing Magazine. Yuyu's specialties include high quality, trendsetting cutting and styling. 
Richelle
Richelle is a graduated beauty specialist who specializes in eyebrows. She was trained by La Biosthétique as a skin therapist.  Relaxation and results are a high priority for Richelle. During her internship at a well known spa she learned a lot about body and skin treatments. For relaxing body treatments and perfectly shaped eybrows Richelle is the person to go to.
Alisa
Alisa is passionate about your skin. She is a trained La Biosthetician and looks further than just your skin or a facial, but offers a much more complete treatment. Alisa sees the skin as a reflection of what's happening inside your body. Her goal is to offer you a moment of deep relaxation during the treatment and getting results with a better skin. Allow her to take you on a trip to a healthy, radiant and fresh skin.
La Maison Amsterdam
La Maison Amsterdam is a men's and women's hairdresser in 'the Jordaan' where everything comes together: a warm welcome, expert advice, time and attention, professional treatments with a great end result. Beautiful shiny hair, radiant skin, the perfect look.
The Culture of Total Beauty. That is the philosophy of La Biosthétique: feeling good and looking good. The natural products of La Biosthétique are visibly effective. Whether it concerns styling or the treatment of scalp problems as a rose. La Maison is a stylish hair salon on the Rozengracht 215 in the center of Amsterdam and open seven days a week, so also on Sundays.

Stay informed
Sign up and stay informed of the latest news.
Unsubscription is possible in the newsletter.