The 16 most asked questions about hair extensions
Are you looking for ways to give your hair more volume and length? Then hair extensions are a good solution! In this article we will answer the most important questions about hair extensions and what you can expect when you have them installed.
1. What are Hair Extensions?
Hair extensions are strands of hair that are attached to your own hair to create volume and length. There are different types of extensions available, including weave extensions. With weave extensions, the strands of hair are sewn to a braid. The extensions are then cut so that they fall naturally.
2. The difference between Weaves and Extensions
A weave is a specific type of extension. There are also other types of extensions that are glued instead of braided, for example. Hairweaves are strips of hair that are sewn onto a braid. This is how you create volume and lengthening.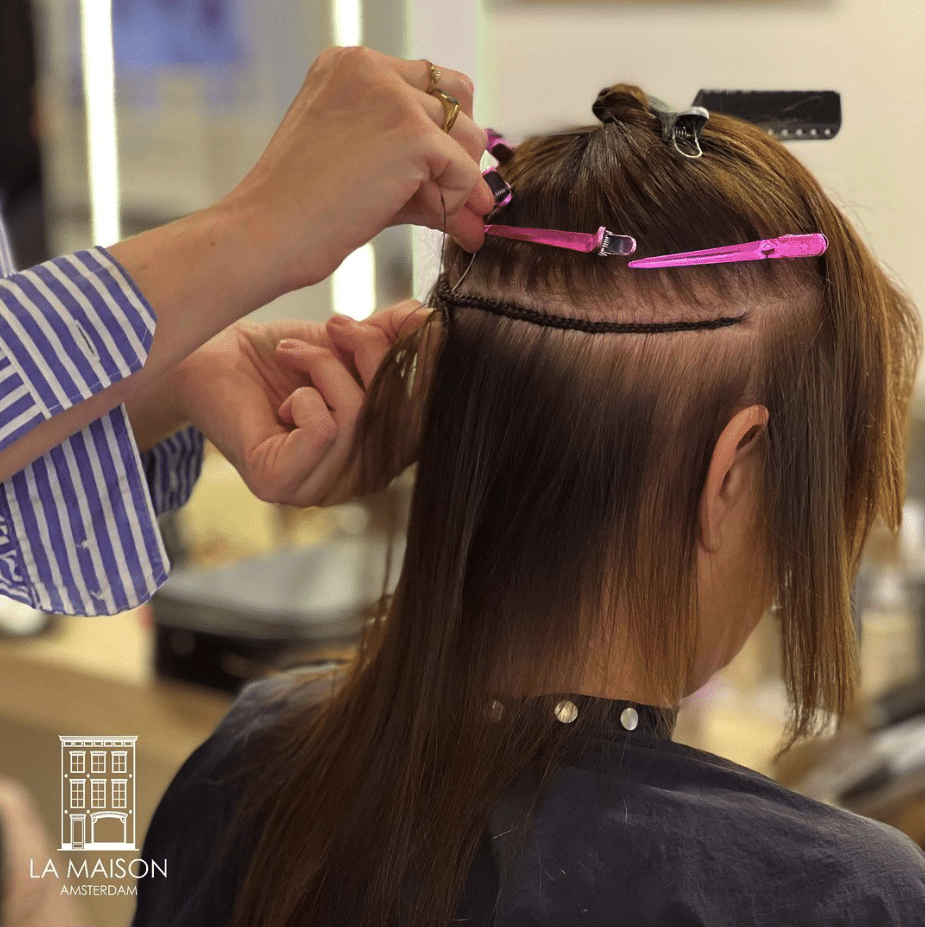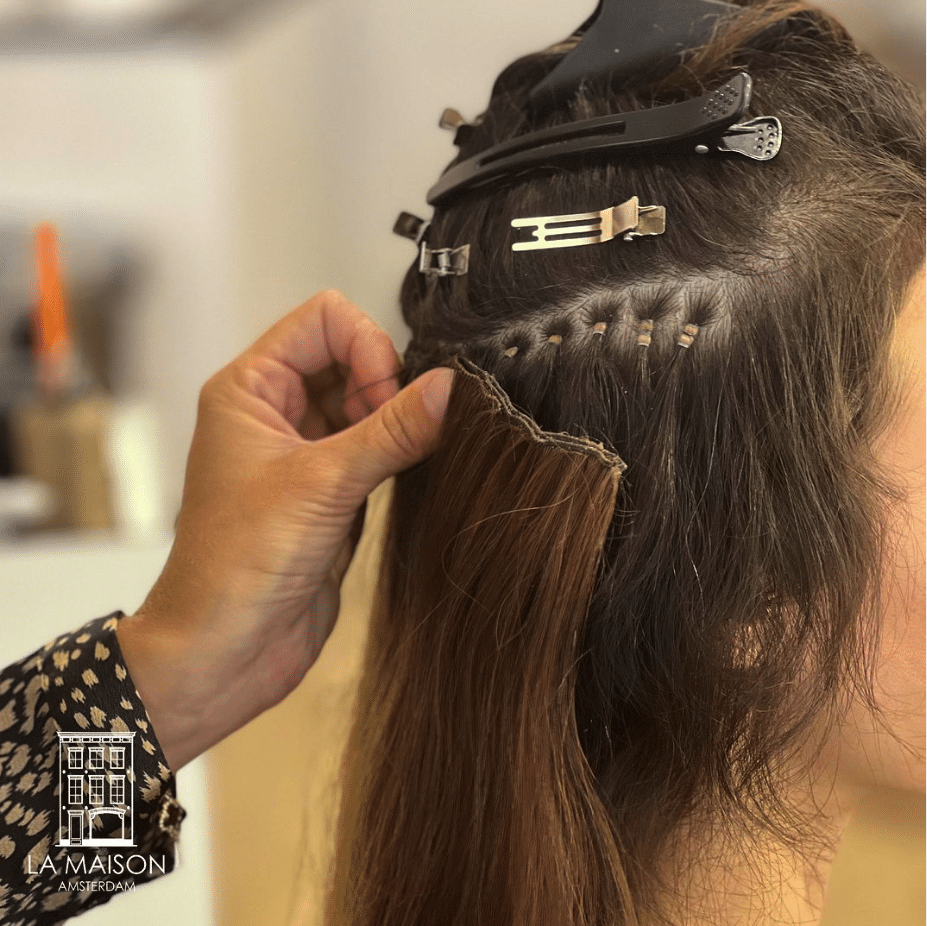 3. Are the Weaves/Extensions harmful to my own hair?
No, it is not harmful to your own hair or scalp. No chemicals are used to secure or remove the extensions, it is 100% natural. The extensions have been developed in such a way that overloading your own hair and scalp is prevented. The hairweaves are beautiful thin strips and are not placed too tightly against the scalp.
4. Do extensions hurt?
No, placing extensions does not hurt. The extensions can feel a bit tight for the first few days, but after that you won't notice any difference with your own hair.
5. Are the Hair Extensions made of real hair?
Yes, our Hair Extensions are made from the highest quality human hair. Due to the unique weaving system and because the structure corresponds to Western hair and therefore also to Dutch hair, the Extensielle hair extensions merge with your own hair.
6. How often should applied Weaves be lifted?
Typically, weaves need to be reinserted between four and eight weeks. That depends on the speed at which your own hair grows and how well you take care of the extensions.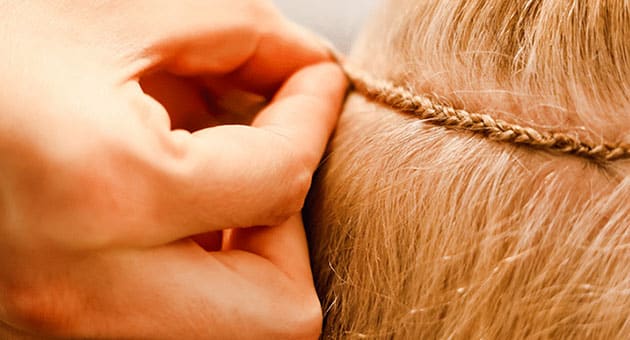 What is so unique about hair extensions at La Maison?
If you dream of a full head of hair, but don't have the patience or genes to achieve …
7. How long do the Hair Extensions last?
The Hair Extensions last about six months, depending on the color, length and care.
8. Can the Extension come loose and fall out?
The hair bands are interwoven with your own hair. This braiding technique ensures that the extensions are firmly attached and cannot just come loose and fall out.
9. How long should hair be to fit Extensions?
Your own hair should be about six inches long. But feel free to drop by for a no-obligation consultation.
10. How do you treat the Extensions?
In principle, you treat the extensions just like your own hair. You can simply comb and wash your hair. It is important to apply conditioner or leave-in conditioner to the hair after every wash. Then you can brush out the hair, air dry or blow dry and possibly style.
11. How Many Hair Extensions Do I Need?
The amount of extensions depends on your own hair and your wishes. Our specialists at La Maison Amsterdam can advise you on this and help you determine the right amount of extensions.
Our Hair Extensions are specially developed for European hair. They are soft, have a fine structure and come in many color nuances that perfectly match your own hair color. Our specialized hairdressers can give the extensions and your hair the desired colors and model together so that no difference is visible.
13. Can I dye my own hair?
Yes, your own hair can be dyed once the extensions are in. The color experts at La Maison are happy to give you advice.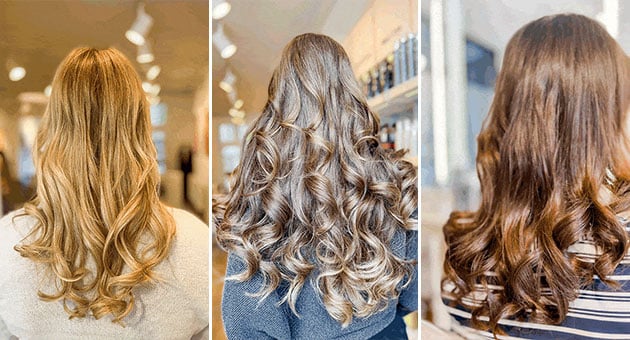 14. Do I have to make an appointment at La Maison Amsterdam?
For questions or information about Hair Extensions, just drop by at La Maison. For extensive advice on color, length and number of extensions, it is better to make an appointment, then you will receive a personal consultation and a price indication.
15. Are there many people with Hair Extensions?
More than you think! Where it used to be mainly artists and other celebrities who had extensions put on, it is now completely established. It will eventually become as common as cutting and coloring. The appearance of Hair Extensions is very natural, so the extensions cannot be distinguished from your own hair.
16. How long will the treatment take?
The first appointment takes a bit longer than the follow-up appointments, because we start with a personal consultation. We go through your wishes with you, we choose a color and determine the length and number of weaves. Based on that, you will receive a quote.
The extensions are then cut and placed in such a way that they fall naturally into your own hair. All in all, this takes about 2 to 3 hours. A follow-up appointment where the weaves are placed up takes less time.
Interested? Make an appointment!
Hair extensions are an excellent solution if you are looking for more volume and length in your hair. Don't be put off by the thought that it would be harmful to your own hair or scalp. The extensions are made of high quality human hair and are designed to prevent overloading. In addition, they are indistinguishable from your own hair and you can treat them just like your own hair. Would you like more information about Hair Extensions or make an appointment at La Maison Amsterdam? Please feel free to drop by or contact us.
Want to see more of our salon? Follow us on Facebook and Instagram.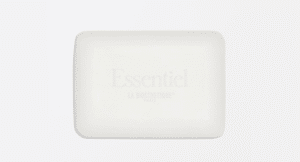 La Biosthetique recently introduced a new addition to their range of hair care products - the Classic Shampoo ...
Lees meer

→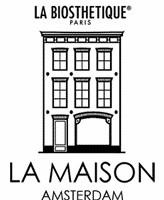 Blijf op de hoogte
Meld je aan en blijf op de hoogte van het laatste nieuws.
Afmelden is mogelijk via de nieuwsbrief. 
Our team can help you in 9 languages